LOUNGEWEAR: WE PIONEERED IT, YOU COMMANDEERED IT
Words and Images by Mia Kapernick
The loungewear trend embodies a generation that has rebelled against the traditional ideas of productivity in the name of self-convenience.
Labelled the 'stay-at-home generation', millennials have perfected the art of neatly conducting every aspect of our lives through our devices; we study, work, communicate and access entertainment without ever leaving our homes. With the introduction of coronavirus, however, the rest of the world began to follow suit. As a result, loungewear, most recognisable as knit sweater sets and tracksuits, began to rise in popularity.
To our betterment, extra time at home has meant a rise in our focus on self-love, personal development and creativity. Lalita Lowe, Melbourne based fashion curator, identified "the wellness trend… [as] a key driver for [millennials'] product [choices]". This is reflected in how loungewear provides a solution for millennials wanting "to look good physically but also feel good, in terms of comfort in their clothing… skin, and lives".
Ingrid Bonnor, director and founder of Homebodii, also believed the increased popularity of loungewear during the pandemic was thought to be linked to "people wanting to feel and look beautiful… while being at home a lot more than usual". Furthermore, Lalita stipulated that the popularity was linked to "people opting for garments that make them feel more at ease" during the uncertainty of the pandemic and highlighted the trend as a "continuation of [all] lifestyles becoming more free and autonomous".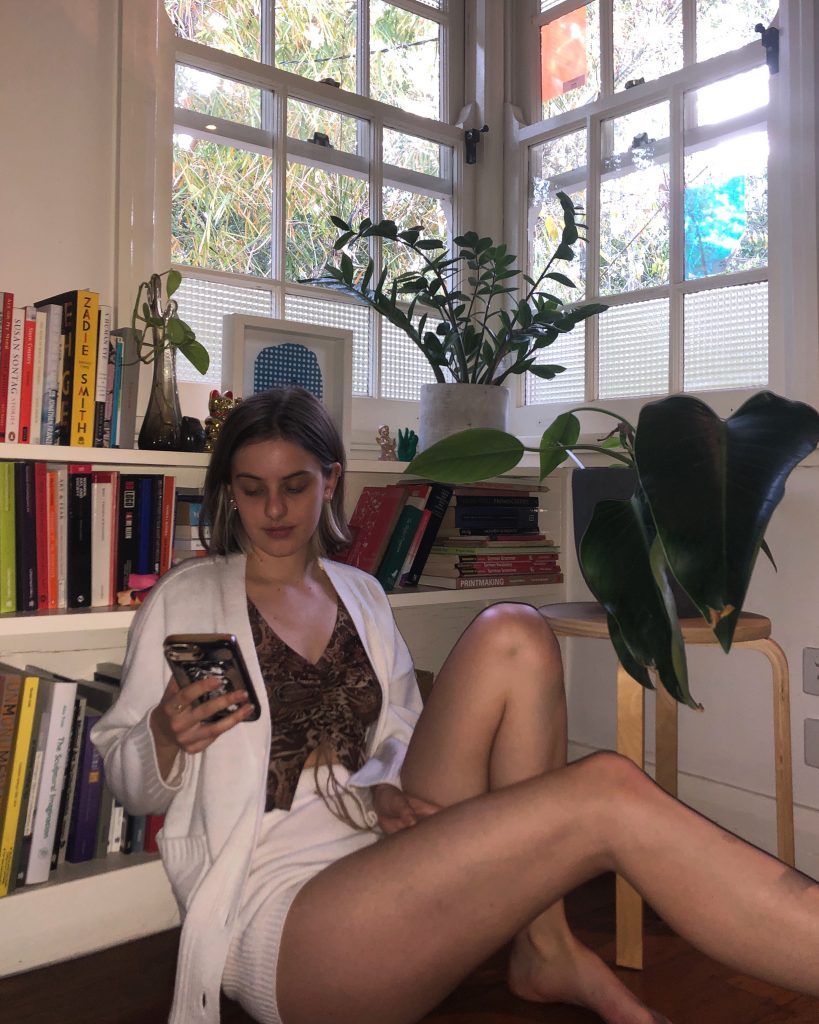 To our betterment, extra time at home has meant a rise in our focus on self-love, personal development and creativity.
Mia Kapernick
Lalita's assumption that "COVID [has] definitely increased the [popularity] of the loungewear trend" was echoed by Rebecca, who stated, "lockdown… [has been] the driver" for the popularity of the trend. Furthermore, Ingrid admitted that "[they] were lucky" to see their sales increase during the pandemic as a result of loungewear's popularity".
Comfortable in our isolation and with defiance on our minds, millennials have reshaped fashion to suit our lifestyle in the home. We laughed in the face of the age-oldtestament that "beauty is pain", with the purchase of each new matching tracksuit, knitwear set or teddy coat. But, like any rise to power, the movement has faced scrutiny and judgement from those not ready for a revolution.
Reminiscent of the beat generation from the 1960s, we rebelled by seemingly doing nothing – the opposite of what the generation before valued. Our elders were quick to pass judgement on our 'from home' lifestyles, using the loungewear trend as ammunition to label us as a lazy, antisocial and seemingly unproductive. When asked if she believed that there was previously a level of shame associated with wearing loungewear outside of the house, owner of Melbourne based knitwear brand Emmeline the label, Rebecca Pickering said: "yes, pre-lockdown and [isolation, there was] 100 percent" a level of scrutiny toward wearers of the trend.
It is in no way surprising that the oldies are now taking our lead on the fashion front. Ingrid confirmed while "millennials feature as a trending market segment" for Homebodii, their market now spans "across all age groups…[with] customers [who] range from 18 to 55 years old. Rebecca, who states millennials "[are] not a huge part of her customer base", pointed out that, while some pieces such as "matching tracksuits [are] definitely a young person's trend… older ladies will wear sweaters and track pants as separates, [instead of] together".
So whether you were a pioneer or a 2020 commandeer – make it your own. Show no fear in being unforgivingly comfortable.